Orygen, The National Centre of Excellence in Youth Mental Health is our flagship partner
In 2001, the Colonial Foundation provided seed funding to catalyse Professor Patrick McGorry's team's initial work in early interventions for young people with mental ill-health. This led to the establishment of Orygen in 2001-02.
Over the next 17 years Colonial contributed $46.2million towards Orygen's development of a comprehensive research base and service platform in youth mental health, including headspace centres and early psychosis centres throughout Australia. Orygen leveraged this $46.2million in philanthropic funding to generate nearly a billion dollars of Australian Government support for the youth mental health sector.
Ongoing Support:
The Colonial Foundation, through its ongoing support, has enabled Orygen to build organisational capacity and direct funding to where it is needed the most. The foresight and leadership of the Colonial Foundation has set us apart from other philanthropic funders.
The leveraged funding from successive Australian Governments has led to Orygen pioneering youth mental health programs, and Orygen is now considered a world leader in youth mental health research and knowledge translation. With mental ill-health the leading cause of disability and death among Australians aged 15-24, our support is having a profound impact on mental health services for young people across Australia.
Orygen's leveraged achievements include:
Early Psychosis Youth Centres
headspace Youth Early Psychosis Program
Primary Health Network Youth Severe funding
headspace rollout and expansion
headspace National Office
Youth IPS (Individual Placement Support) employment system rollout
How we fund:
The Colonial Foundation has supported Orygen with, on average, $2.9 million each year for the past 17 years. We are currently two years into a further five year partnership.
We look forward to our continued involvement with Orygen and playing our part in improving mental health outcomes for young people and their families and transforming the landscape of mental health care across Australia.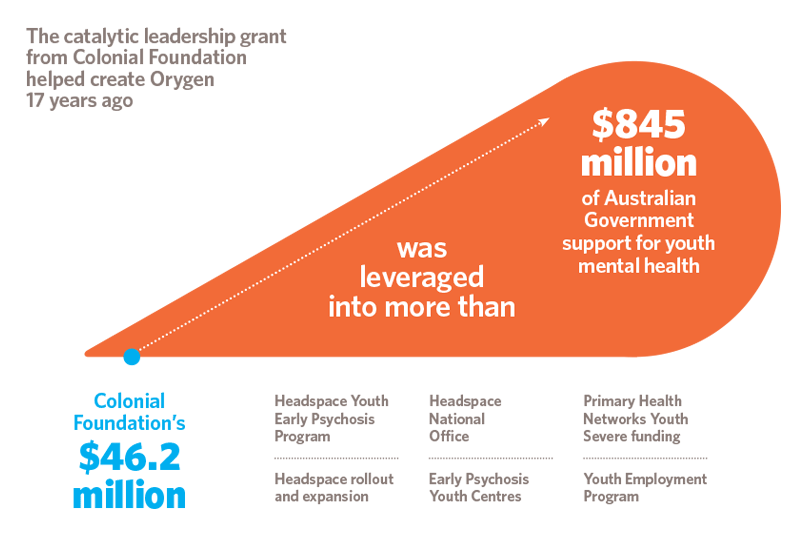 Orygen's Capital Project
In addition to the annual contribution to Orygen, the Colonial Foundation was pleased to be able to advocate and fund $5 million towards the redevelopment of a new purpose-built building at Orygen's Parkville campus, due for completion in October 2018.
The new facility will be a true reflection of Orygen's leading role in youth mental health and will incorporate their values from the ground up: a building that is not only designed by young people for young people, but is also built by young people – with apprentices making up at least 10% of the workforce.
The long-awaited redevelopment will transform the way Orygen works and will house their clinical, research, policy and education and training services under one roof. This new world-class facility will support Orygen to integrate their innovative clinical care and translational research activities.